Green Energy In Texas
Renewable energy production in Texas has increased by leaps and bounds in the last decade. And not purely for environmental and ecological reasons, but because it is becoming increasingly cost-effective. Renewable energy in Texas centers mainly around solar and wind, with significant hydro power as well.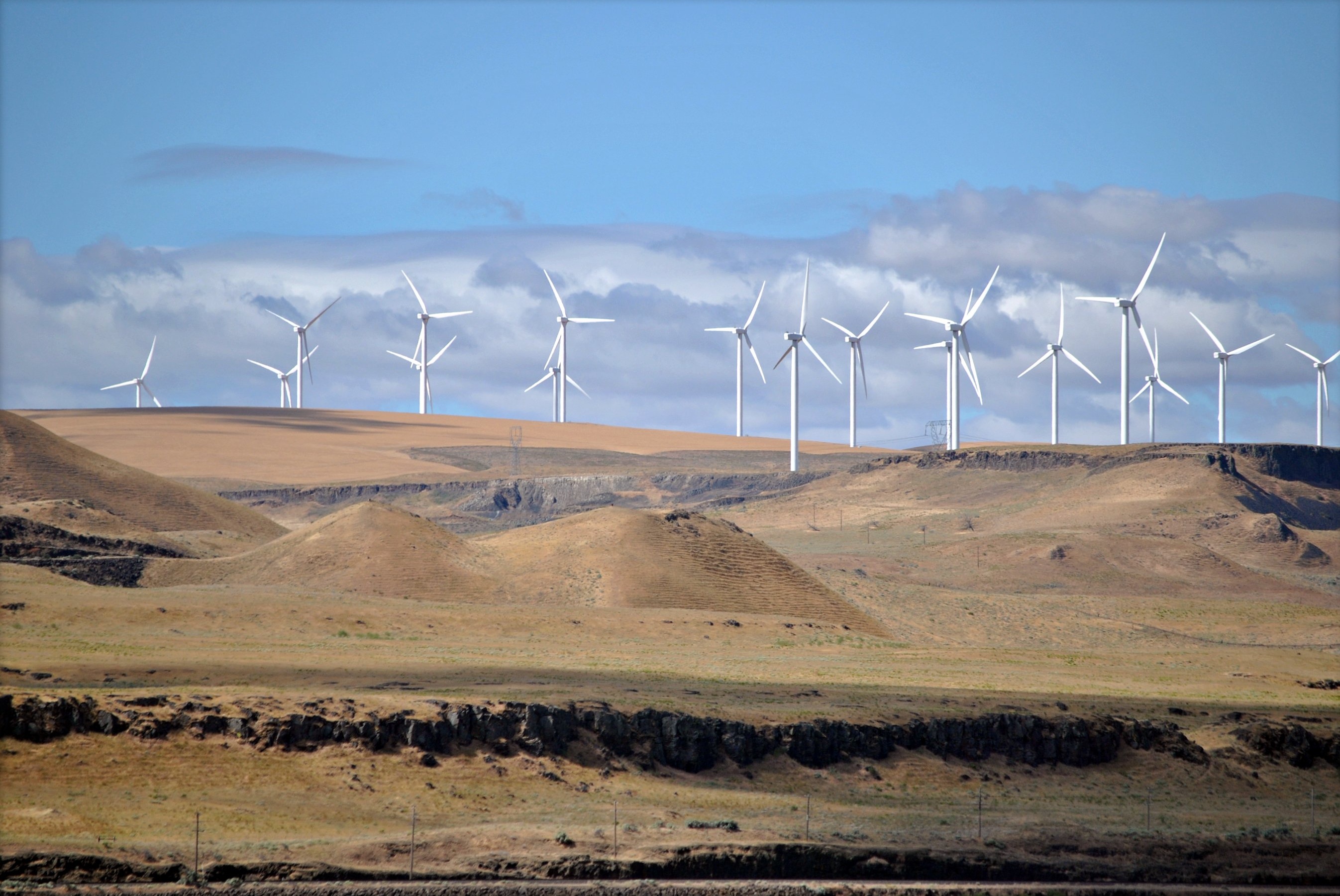 Overview
Renewable energy is generally considered to be any form of energy that is generated from a source derived directly from the sun (like solar-thermal, photovoltaic, photohemical, and passive solar), wind and hydropower, or energy generated from natural movements and phenomena of the environment (geothermal and tidal energy). Some advanced forms of biomass (clean garbage incineration, biofuels from algae, etc.) are sometimes also included in this definition.
Overall, natural gas accounts for 50% of energy production in Texas, coal for 32%, nuclear for 9%, and other renewables for 8%. Of these renewables, wind is the largest contributer, and Texas leads the nation in wind energy production, producing twice as much as the next state, California. Despite this, Texas remains behind its goal of installing 500 MW of new non-wind renewable energy, and lacks the solar-specific financial incentives necessary to kickstart the exploitation of its vast solar potential. 
Nevertheless, with the contribution of wind energy, Texas met its 2025 goal of 10,000 MW of renewable energy a full 16 years ahead of schedule, and state programs continue to propel the wind sector forward. These include the LoanSTAR program, which is a nearly $200 million financing facility for renewable energy projects, a property tax exemption for renewable energy, and other tax deductions. 
Solar
Texas has the potential to be a massive producer of solar energy. In fact, Texas has the largest solar potential of any state in the United States, and could one day produce enough energy to even export to neighboring states through connected grids. As of 2013, 215 MW of solar capacity had been installed in Texas, a one hundred fold increase in a decade. For more information on the solar industry in Texas, visit our page Solar Energy In Texas.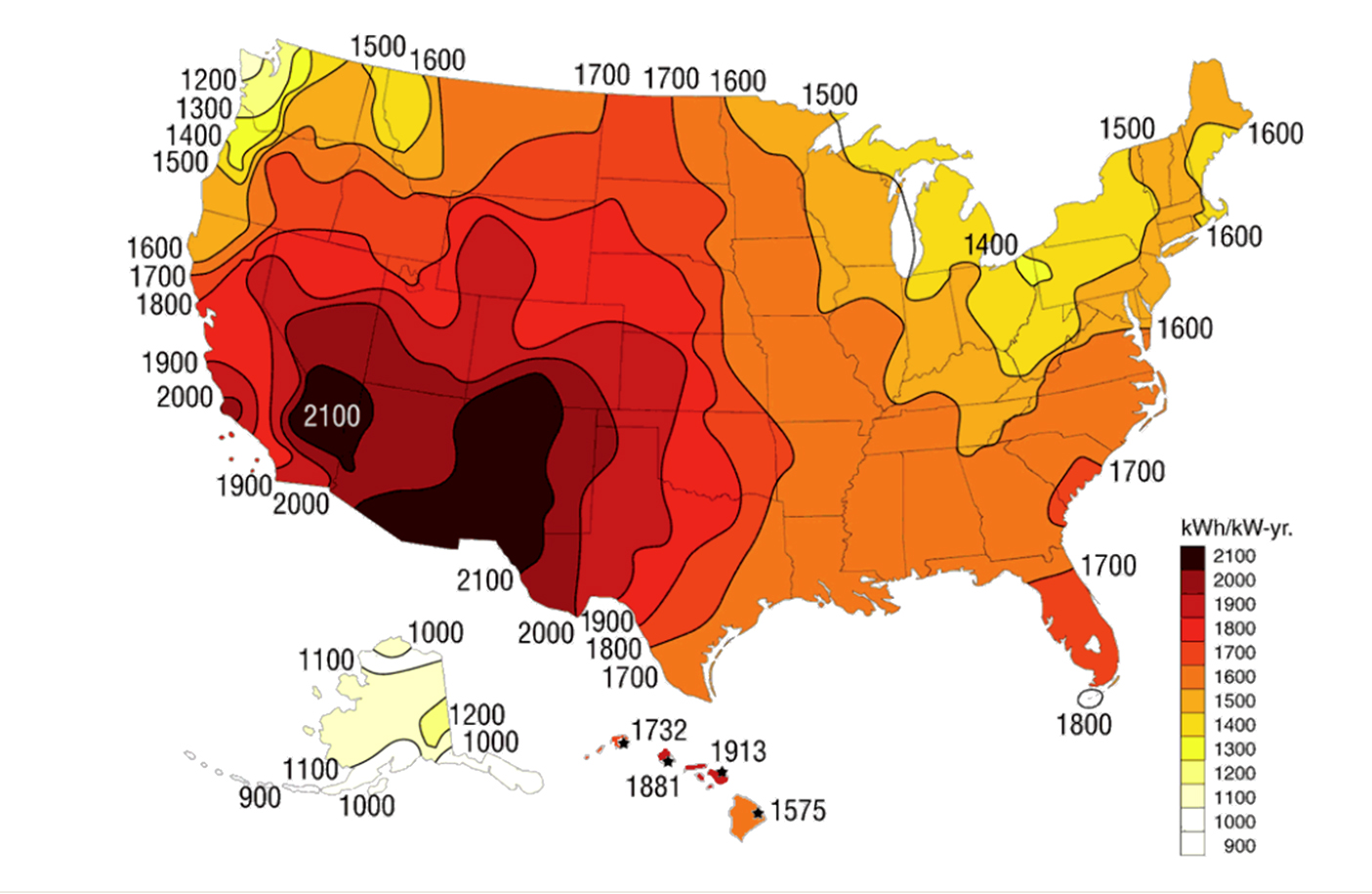 Wind
Ironically, it is in wind, not solar, that Texas's renewable sector really shines. With an installed capacity of 12,214 MW, Texas leads the United States in producing energy from the force of the wind. Massive investment has accompanied this increase, providing a tangible economic benefit to the state. For example, in 2013, a $7 billion investment was made to construct transmission lines to carry 18.4 GW of power from wind turbines in West Texas to the more populated eastern part of the state. On November 10, that same year, Texas set a new record, with wind energy providing 26% of the ERCOT grid's power load. For more information on wind energy in Texas, visit our page Wind Energy In Texas.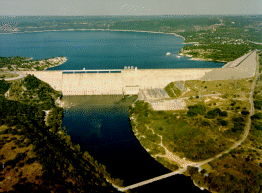 Hydroelectricity
Texas has roughly 300 MW of hydroelectric capacity from the following dams (with some generating electricity across borders):
Amistad Dam - built in 1969 across the Rio Grande, this collaborative project between the United States and Mexico generates around 132 MW.
Buchanan Dam - built in 1937 on the Colorado River, in central Texas, this multiple arch dam has a capacity of 48 MW.
Denison Dam - built in 1943 as a flood control project, Denoson Dam lies on the border with Oklahoma, and generates up to around 80 MW of electricity.
Falcon Dam - inaugerated in 1954 on the Rio Grande, Falcon Dam supplies energy to both Mexico and Texas, with a maximum capacity of 80 MW.
Inks Dam - built in 1936 on the Colorado River, with a capacity of 15 MW.
Mansfield Dam - completed in 1941 on the Colorado River, generates up to 102 MW.
Max Starcke Dam - constructed from 1949 - 1951 on the Colorado River, with an installed capacity of 32 MW. 
Morris Shephard Dam (no longer in use generating electricity)
Tom Miller Dam - built by the city of Austin for flood control and hydroelectric generation, the dam has a capacity of 17 MW.
Wirtz Dam - built on the Colorado River in the 1950's, Wirtz Dam generates up to 56 MW.
Though Texas benefits from significant hydroelectricity generation, there is little room for growth in this sector, because the major available locations for dams have all been exploited. Furthermore, the ongoing drought in Texas and the American southwest is threatening water flows through the Colorado River and Rio Grande, and jeopardizing the potential of these dams to generate electricity at maxiumum capacities. Indeed, electricity generation from these dams has been gradually declining. The Lower Colorado River Authority (LCRA), which was created to build and manage the dams during the 1930's, has been progressively limiting the amount of water it releases from the Colorado River. Today, the LCRA generates only one-third of the hydroelectricity that it did in 2011, and often only runs the turbines in dams when it releases water downstream for other purposes.
Outlook for the future
With more than 200,000 jobs, and billions in investment, the Texas green energy sector looks certain to expand, boosting both growth and lowering emissions. Having met previously declared targets, Texas is currently debating whether to continue its Competitive Renewable Zone (CREZ) initiative--the now-exceeded package of renewables targets and financing incentives originally passed in 1999. 
---