Rates: Off-Peak Hours the Cheapest Time to Use Electricity?

With Time-of-Use plans, electricity rates per kilowatt-hour vary according to peak and off-peak electricity hours. This means that consumers can control how low (or high) their electric bill will be depending on the time of day (or even the day of the week) when energy is used. These types of plans can be beneficial since reducing usage during peak times can generate big savings. It's absolutely critical to understand your electric provider/supplier pricing schedule in detail and to know the cheapest time of day to use electricity. Scroll (or swipe) down to find out more this frequently asked question.
---
How do time-of-use energy plans work?
During peak-use times, higher consumer demand increases the cost to deliver and generate electricity. In Time-of-Use plans your provider passes these fluctuations onto the consumer within your delivery charges. Peak and off-peak rates can vary based on hourly and even seasonal changes in demand. When consumers in your service area all want to use electricity at the same time, your electricity company tries to incentivize consumers to shift their use to off-peak periods.
Depending on your provider, a Time of Use plan may only be a good choice for savings if you are able to shift about 80 percent of your electricity usage to off-peak times.
Comparing Time-of-Use : SMUD Peak Hours & Dominion Power off-peak hours
To get a better, general idea of how the Time-of-Use plans are structured, check out the tables below that show the Sacramento Municipal Utility District (SMUD) peak hours and the Dominion Power off-peak hours:
SMUD Peak Hours
Seasons
Off-Peak
Mid-Peak
Peak
Summer
June 1 - Sept. 30
A.M. Weekdays: 12am-12pm
Weekends & Holidays
P.M. Weekdays: 12pm-5pm & 8pm-12am
P.M. Weekdays: 5pm-8pm
Non-Summer
Oct 1 - May 31
Weekdays: 12am-5pm, 8pm-12am
Weekends & Holidays
-none-
Weekdays: 5pm-8pm
Dominion Power : Off-Peak Hours
Seasons
SUPER Off-Peak
Off-Peak
Peak
Summer
May - Sept
Everyday: 12am-5am
Weekdays: 5am-3pm & 6pm-12am
Holidays & Weekends: 5am-12am
Weekdays: 3pm-6pm
Winter
Oct - April
Everyday: 12am-5am
Weekdays: 5am-6am, 9am-5pm, 8pm-12am
Holidays & Weekends: 5am-12am
Weekdays:6am-9am & 5pm-8pm
Peak hours : Is electricity cheaper at night?
Peak and off-peak hours vary by state and provider. Some providers even have "super-peak" or "mid-peak" times. The best way to find out your fee schedule is to call your provider or visit their website. Your electricity bill may also divide your charges into peak and off-peak usage.
Some common peak times include:
Late Afternoon to Early Evening
Summers & Winters
Weekdays
Non-Holidays
Peak and Off-Peak electricity hours: (Orange = peak | Dark Blue = mid-peak | Light Blue = off-peak)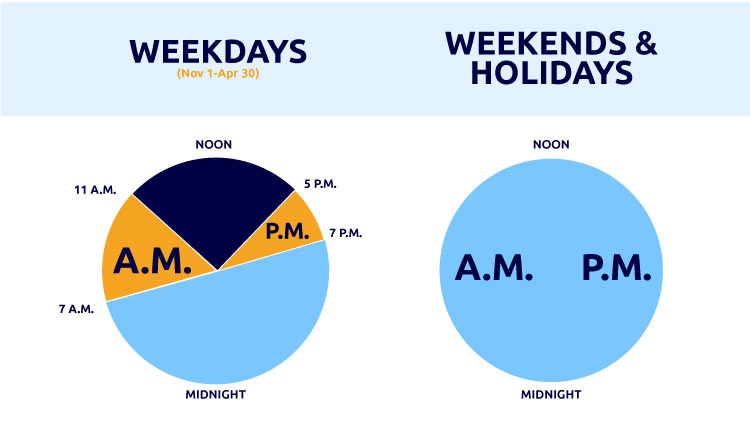 Ways to Save
Some providers offer the option to install a smart meter, which breaks down your electricity usage by the hour. By comparing these numbers to your provider's peak times, you can shift your electricity use accordingly.
Some other ways to avoid price spikes during peak rate times include:
Run large appliances like your dishwasher and washing machine during off-peak times
Turn off electronics when not in use
Open or close your blinds to reduce heating and cooling costs
Keep your window and door insulation strong
Set your computer to hibernate mode when not in use
Install a timer in your thermostat to turn of the heat or air conditioning when not in use
Different Types of Rate Plans
Fixed-Rate Plan - Your rate per kilowatt-hour remains the same throughout your entire contract period.
Variable-Rate Plan - Instead of demand-based rates, your electricity price can change on a monthly basis based on market costs.