Prepaid Electricity Plans
With a prepaid plan, customers pay for electricity as they use it. This "pay as you go" plan is a common option for many customers who, for a variety of reasons, do not choose to pay a security deposit for their electricity supply. Is a prepaid option right for you?
---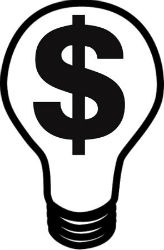 Our Recommendations
Summary of Pros & Cons
Pros
Cons

 

No need to pay a security deposit, no cancellation fees

 

Rates are higher than plans with a security deposit

 

Flexibility - pay for your electricity as you use it

 

Electricity can be disconnected for non-payment with little notice
Depending on your situation, a prepaid plan may be your only option for your electricity. However, if you are able to choose amongst other options, we recommend choosing a fixed rate for electricity in Texas.
Prepaid Plans/No Deposit Plans Explained
Customers on prepaid plans pay for blocks of power, and make further payments as needed. No credit rating check or security deposit is required, which makes for a simple sign-up process. Customers on prepaid plans do not have to sign a contract, and therefore don't have to worry about cancellation fees if they switch suppliers. Instead of receiving monthly bills, customers pay for more power when they need it. Many retail electric providers offer multiple payment options, and send email or text notifications to customers when their balance is low. However, prepaid electricity rates are often higher than other price options. This type of plan also requires constant monitoring, as retail electric providers can disconnect prepaid plan customers with little notice if their account balance reaches 0.
Why Choose a Prepaid Plan?
Untouched Credit Rating
Before you open a new account for your electricity supply in Texas, your retail electric provider will first check your credit rating to determine whether you are an eligible customer. Your credit history may also affect the amount of security deposit they require. Prepaid plans are often the only option for customers whose credit rating does not meet the requirements of a retail electric provider.
As your credit rating can sometimes drop when it is checked frequently, some customers may also choose a prepaid plan to avoid having their credit history checked.
No Deposit Required
For most types of rate options, retail electric providers in Texas require new customers to pay a security deposit when they open a new account. The amount that most REPs ask for as a deposit can range from $200 - $300. Prepaid plans, on the other hand, do not require security deposits to start service, which makes them ideal for customers who cannot or do not want to pay a security deposit for their electricity supply.
Flexibility & No Minimun Usage Requirements
Many plans offered by Texas retail electric providers include a "minimum usage fee", which is charged if customers consume less than a certain monthly threshold. The advantage of prepaid plans is that you pay only for what you use, when you use it. However, customers should also keep in mind that prepaid rates are often on the higher end of what's on offer. As disconnection procedures are often quicker on prepaid plans, customers need to keep track of their balance or else risk losing their power supply with little warning.
What Else Do I Need to Know About Prepaid Plans in Texas?
There are two main disadvantages of prepaid electricity plans:
Higher Rates
Prepaid rates are generally higher than other offers for electricity, so customers on prepaid plans generally will pay more over the long run than if they were on another type of plan.
Some REP offer fixed rate prepaid plans, while others offer variable rates.
Possibility of Disconnection Without Notice
Disconnection procedures are different with prepaid plans; REPs can disconnect customers on prepaid plans with little notice if they are behind on their bills. Some REPs will notify customers by text or email when their balance is low so that they know they need to make another payment installment to avoid disconnection. This type of plan is probably not a great option for customers who are not comfortable with using email or cell phone communication to receive important information.
Which Texas REP Offer Prepaid Plans?
Some Texas REP specialize in prepaid electricity, whereas others offer prepaid and postpaid plans. The following electricity companies in Texas offer plans that don't require a deposit.:
Prepaid Electricity Suppliers - Variable Rates
REP in Texas Offering Variable Rate Plans

| | |
| --- | --- |
| Acacia Energy | Breeze Energy |
| | |
| First Choice Power | |
| Hino Electric Company | Payless Power |
| | Powerhouse Prepaid Electricity |
| Pronto Power | |
| Smart Prepaid Electric | Zip Energy |
Prepaid Electricity Suppliers - Fixed Rates
As of February, 2016, ZIP Energy was the only REP to offer a fixed rate prepaid electricity plan in Texas, with their 12 month plan that ranges between 10.6 and 10.9 ¢/kWh (depending on the utility service area)
Interested in a No Deposit Electricity Provider?
We're here to help. Call us at 832-460-0233 to speak to an energy expert and find the lowest rates available in your area!