Fixed Prices in Texas
Fixed or variable: which rate type is a better deal? In this article we explain everything you need to know about fixed and variable rates, and why you should probably choose a fixed rate for your electricity supply in Texas.
---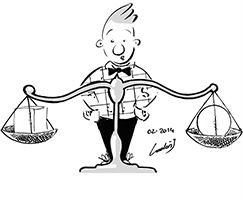 Fixed or variable: which should you choose?
Our Recommendations
Summary of Pros & Cons

 

Pros

 

Cons
Consistency - pay the same price every month
Less flexibility - contracts are usually longer-term, and cancellation fees may apply if you wish to leave your contract early
If prices rise above fixed rate, you may save money on your bill
If prices fall below fixed rate, you will pay more money than you might have otherwise
What is a Fixed Rate?
With a fixed rate contract, the price you pay for your electricity stays the same throughout the length of your engagement. Fixed rate contracts can be broken down into two categories:
Fixed rate only: the price you pay for your electricity supply is fixed, but your monthly bill will vary depending on how much power you consume
Fixed monthly price: your monthly bill remains the same, regardless of how much electricity you consume (within a certain limit)
The main advantages of choosing a fixed rate for your electricity in Texas are the security and peace of mind that it offers. Variable prices can fluctuate dramatically from month to month, and in general we don't recommend them (find out why we don't recommend variable rates for electricity). Over the long-term (i.e. for multi-year contracts) fixed rates can potentially offer the possibility of savings, if the market price for electricity increases over the length of your contract.
However, most retail electric providers offer fixed rates for longer terms, and often charge cancellation fees for leaving the contract early.
Did you know? You do not have to pay cancellation fees for leaving your contract early if you are moving out of an area served by your retail electric provider.
How Fixed is Fixed?
While most retail energy providers advertise their fixed rates as "locked", keep in mind that the price you pay for your electricity also includes transmission and distribution fees, which are charged on behalf of your utility your retail electric provider. Your REP does not have control over your local utility's fees, and any changes in their rates may affect the rate you pay for your electricity supply. Make sure to read the electricity facts label to find out in which situations your fixed right might change, and by how much.
Why Choose a Fixed Rate?
We recommend choosing a fixed rate for the following reasons:
Predictability - a fixed rate allows you to predict your monthly electricity bills
Easier to compare - variable rates are difficult to compare, as you don't know by how much they will change in the future
Peace of mind - the price you see is the price you pay
However, keep in mind that choosing a fixed rate is a commitment; most retail electric providers charge cancellation fees if you decide to leave a contract early. 
Who Offers Fixed Electricity Rate Options?
Fixed rate contracts are the most popular price option in Texas, and are offered by all retail electric providers. Check out our pages on retail electric providers in Texas to find a supplier and electricity option that works for you.
Looking for a Fixed Rate for Your Electricity?
We're here to help. Call us at 832-460-0233 to speak to an energy expert and find the lowest fixed rates available in your area!
What Else Do I Need to Know About Fixed Rates in Texas?
If you choose a fixed rate contract for your electricity supply, don't forget to start shopping once you reach the end of your contract's term. Some retail electric providers will automatically switch customers to more expensive variable rates once their fixed rate contract ends. As rates can change based on how much electricity is consumed, your should also make sure that the rate you purchase is for a consumption level that corresponds to your monthly/yearly usage.
Minimum Usage Fees
Make sure to check if your contract includes a requirement for a certain minimum monthly power usage. Some REP charge customers a fee for consuming less than a certain monthly kWh amount.