Understanding Indexed Rate Plans in Texas
Indexed (or Market) rates are variable rates that are directly tied to changes in market prices for electricity. Is an indexed price the right choice for you? Find out here
---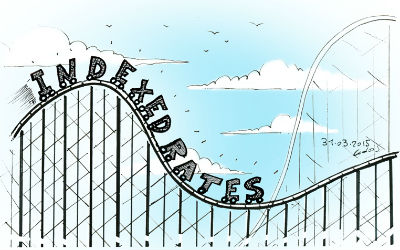 Our Recommendations
Summary of Pros & Cons
Pros
Cons

 

Flexibility - no contract, no cancellation fees

 

Possibility for dramatic price changes - arguably higher than with a variable rate
Given the generally high volatility of electricity prices, in general we recommend fixed prices over indexed or variable prices.
What is an Indexed Rate?
Like a variable rate, an indexed rate changes on a monthly basis. However, whereas a retail electric provider (REP) has some control over price changes with a variable rate, an indexed rate changes in fuction to a pricing formula that is tied to a publicly traded energy index (usually the price of gas). Indexed rates can change depending on a number of factors, including:
Natural gas prices - indexed prices are usually pegged to the price of natural gas, which can be volatile
Weather - the price of gas is strongly impacted by weather; unseasonal weather (such as very cold winters or hot summers) can drive up natural gas prices, as can natural disasters
Economic conditions - increased commercial and industrial demand for natural gas can increase prices, and an economic slowdown can lessen the pressure on prices
Why Choose an Indexed Rate?
An indexed rate offers similar advantages as a variable rate, namely:
Flexibility - no need to sign a contract, no cancellation fees paid
The possibility to take advantage of low prices when market prices fall
However, it should be noted that an indexed price comes with a certain amount of risk, as future prices cannot be predicted.
Who Offers Indexed Electricity Rate Options?
Some, but not all, retail electric providers offer indexed prices in Texas. Find out which REP offer indexed prices.
Interested in an Indexed Rate?
We're here to help. Call us at 832-460-0233 to speak to an energy expert and find the lowest rates available in your area!
What Else Do I Need to Know About Indexed Rates in Texas?
If you choose an indexed rate for your electricity supply, don't forget to check if your contract includes a requirement for a certain minimum monthly power usage. Some REP charge customers a fee for consuming less than a certain monthly kWh amount, even on an indexed rate.
Which Rate is Safer: Indexed or Variable?
The jury is still out on which type of rate is less likely to change dramatically from month to month. On the one hand, the indexed price might be seen as more straightforward, as it is based on a pre-defined formula. Customers who don't like the idea of their REP being able to change prices at their own discretion might prefer an indexed rate for this reason.
However, the advantage of variable prices is that your REP may use this discretion to shield you from dramatic increases in the market price. Customers on month to month plans can switch at any time without worrying about cancellation fees, so REP have an interest to try to keep prices as low as possible. Customers on indexed prices, on the other hand, don't enjoy any possibility of protection from dramatic price increases.
Since indexed prices can change so dramatically from month to month, to avoid any suprises customers who are interested in them should ask their REP if they will receive a notice of any changes to the index.