AEP Texas : AEP Texas North / AEP Texas Central Electric Utility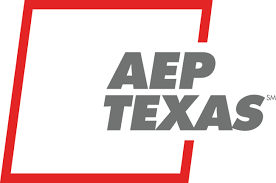 AEP Texas (which stands for: American Electric Power) is an investor-owned electricity utility company based in Corpus Christi, Texas. As one of the big five T&D Utility companies, AEP Texas operates on the deregulated ERCOT grid. AEP Texas (AEP Texas North & AEP Texas Central) service area covers Corpus Christi, San Angelo, Victoria, and many more. AEP Texas works with more than 70 retail electric providers (REPs) to deliver electricity to Texans. The AEP Texas power outage map and AEP Texas customer service number is available for customers to report an outage and view restoration times.
---
AEP Texas service map & service area cities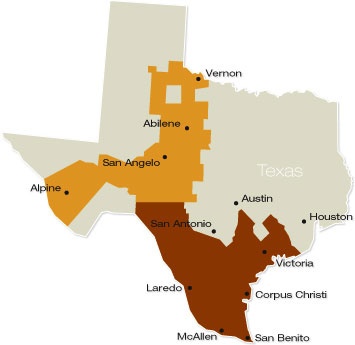 Both, the AEP Texas North and AEP Texas Central zones, provide the same AEP services to consumers residing in the areas.
AEP Texas service stretches almost entirely across the Lone Star state, from north to south. AEP's energy:
 Runs along a majority of the Texas Gulf coast, from Victoria to San Benito,
 Spans up north from McAllen, through Laredo, San Angelo, Abilene, and up to Vernon, then
 Reaches out west to Alpine, Texas.
Although AEP Texas works with many retail electric providers to service consumers in the AEP Texas service area, it's important to note that some municipalities may host their own, regulated utility service. Abilene, for examle, is within the AEP Texas service area but is not open to the retail electric market (power to choose). Abilene, Texas, is provided electricity service by Taylor Electric Cooperative, Inc.
AEP Texas, like the other major electric utility companies, works with over 70 retail electric providers (REPs) to connect service to millions of Texans. Out of all the available retail electric providers, some of the biggest REPs working with AEP Texas include:
AEP Texas electricity rates: Delivery tariffs
The electricity rates that AEP Texas charges, which are passed through from retail electric providers to all consumers, are quite different - depending on location (in AEP Texas North or AEP Texas Central). This is mainly due to the difference in maintenance costs associated with the AEP North versus AEP Central electrical infrastructure.
The charges originating from the five TDUs / TDSPs are somewhat in the same price range but with an exception to Texas-New Mexico Power's higher monthly base fee and ¢/kWh energy rate:
Utility company tariffs in Texas : MARCH 30 2021

| TDU | TDU monthly base fee | TDU ¢/kWh energy rate |
| --- | --- | --- |
| AEP North | $3.57/mo | 3.0078¢/kWh |
| Oncor Electric Delivery | $3.42/mo | 3.4928¢/kWh |
| CenterPoint | $4.39/mo | 3.2669¢/kWh |
| AEP Central | $4.27/mo | 3.7458¢/kWh |
| TNMP | $7.85/mo | 4.0403¢/kWh |
Charges for electricity delivery are regulated by the Texas Public Utilities Commission, and do not change very often (once or twice a year at most). Electricity prices, however, depend on demand and available supply, and can change regularly. For historical electricity rates, customers must contact their preferred retail electric provider.
In any case, a Transmission and Distribution Utility / Service Provider (TDU/TDSP) is only determined by location of residence. Switching from one utility company to another is therefore not possible unless one moves to another location covered by a different TDU/TDSP service area.
Have more questions about your electricity bill's charges? Understanding an AEP Texas utility bill and the delivery charges that REPs pass through to consumers is explained in certain sections of the final bill.
Understanding the AEP Texas electricity bill
AEP Texas does not issue electricity bills, only the retail electric providers do. The energy bill from electric providers contains the TDSP / TDU (AEP Texas) delivery charges (a ¢/kWh rate plus a monthly base fee) - set by the Public Utilities Commission of Texas and AEP Texas - and the supply charges owed to the retail provider for their service as an intermediary.
For any questions regarding an electricity bill, customers must directly contact their chosen retail energy provider. Check out the list of energy providers in Texas to locate the customer service number for a specific provider.
What is in your bill?For more information regarding bills and pricing, we have a thorough Electricity Bill breakdown to help out.
AEP Texas phone numbers : Quick contact for customer service
There are several ways to contact AEP Texas, whether it is by phone, email or online request. Some of the most common reasons to contact AEP Texas by phone are listed below for a quick reference.
AEP Texas : Phone numbers

| Reason | Phone number | Hours |
| --- | --- | --- |
| Customer service | 1-877-373-4858 | M-F, 8am to 5pm |
| Report an outage | 1-866-223-8508 | 24/7 |
| Downed powerline | 911 | 24/7 |
| Builders / New construction | 1-877-373-4858 | M-F, 8am to 5pm |
AEP Texas can also be reached by using the AEP Texas online email form or sending mail to the AEP Texas address:

AEP Texas
539 N Carancahua
Corpus Christi, TX
78401
AEP Texas outage map : Report an AEP Texas power outage & check an outage status
Access the AEP Texas Power Outage Map to see if your neighborhood may be affected. Viewers may also search for a power outage by zip code or county and see how many customers are affected by an area outage along with an estimated restoration date/time.
AEP Texas updates power outage information on the online map every 15 minutes but may experience delays in refreshing information during high-traffic times. There are various other features available on the AEP Texas power outage map, besides seeing the area where an outage event is occurring.
What is AEP Texas? And what does AEP stand for?
AEP Texas is a subsidiary of the major electric company American Electric Power. The activities of American Electric Power include:
Generation (owning & operating power plants): 38,000 megawatts of generating capacity.
Power transmission (high voltage transport of power over large distances): 40,000 miles of transmission lines across the US.
Power distribution (low voltage transport of power over shorter distances): 222,000 miles of distribution lines across the US.
American Electric Power is a utility company which offers delivery and supply services of electricity and gas for residential, as well as commercial and industrial customers in several states across the country. American Electric Power in the U.S. owns and operates the following companies:​​
AEP Texas
AEP Ohio
Appalachian Power, which covers parts of Virginia and Tennessee
Indiana Michigan Power, which serves parts of Indiana and Michigan
Kentucky Power
Public Service Company of Oklahoma
SWEPCO (Southwestern Electric Power Company), which serves parts of Texas, Arkansas, and Louisiana
In 1958, the company stopped all natural gas production/distribution activities and changed their name to American Electric Power to focus more on the generation, transmission and distribution of electricity.
Today, American Electric Power continues to be one of the biggest utility companies in the country.
Need financial assistance with paying utility bills?See what national and Texan Energy Assistance programs are available to help pay your electricity bill, the eligibility requirements, and how to apply!