Texas New Mexico Power (TNMP) : Service area and power outage resources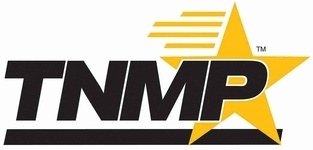 Texas-New Mexico Power is a Texas investor-owned electric utility company based in Dallas, Texas. As one of the five major Utility companies, Texas-New Mexico Power operates on the deregulated ERCOT grid. Texas-New Mexico Power works with more than 70 retail electric providers (REPs) to deliver electricity across Texas. Swipe (or scroll) down to find the Texas-New Mexico Power service area for consumers and their customer service contact phone numbers. Find, below, a few Texas-New Mexico Power outage resources that include the Texas-New Mexico Power outage map and contact information to report a Texas-New Mexico Power outage.
---
Texas-New Mexico Power outage map , Report a TNMP power outage & check outage status
Access the TNMP Power Outage Map to see if your area may be affected. Viewers may also search for a power outage by zip code or county and see how many customers are affected by an area outage along with an estimated restoration date/time.
TNMP updates power outage information on the online map every 20 minutes but may experience delays in refreshing information during high-traffic times. There are various other features available on the TNMP power outage map, besides seeing the area where an outage event is occurring.
Contact Texas-New Mexico Power : TNMP phone numbers & customer service
There are several ways to contact TNMP, whether it is by phone, email or online request. Some of the most common reasons to contact TNMP by phone are listed below for a quick reference.
TNMP contact : Common phone numbers
Contact Texas-New Mexico Power : TNMP Phone Numbers
Reason
Phone number
Hours
Report an TNMP outage
1-888-866-7456
(option #1)
24/7
Report an
electrical hazard
1-888-866-7456
(option #2)
24/7
TNMP Customer service
1-888-866-7456
(option #3)
M-F, 8am to 5pm
Downed powerline
911
24/7
Builders / New construction
Bay Area : 1-281-648-1675
Mainland : 1-409-949-5696
Brazos : 1-979-345-3138
North-Central : 1-214-222-4195
NE/NW Texas: 1-972-353-5097
Central Texas : 1-254-675-2324
West Texas : 1-432-447-0360
M-F, 8am to 5pm
More Texas-New Mexico Power contact
You can reach TNMP on the following numbers:
By email on the TNMP contact form
By mail at the following mailing address: Texas New Mexico Power Company
577 N Garden Ridge Blvd
Lewisville, TX
75067
Complete TNMP Contact Information
Texas-New Mexico Power (TNMP) service area and maps
The TNMP service area covers areas along the Gulf coast, and also in the north-central and western parts of Texas.
The most populated of the TNMP service areas is the zone in the north-central part of the state, surrounding (but not including) Dallas-Fort Worth (Oncor Electric Delivery service area). Texas-New Mexico Power delivers energy to cities in this area including Lewisville, Glen Rose, Clifton, Whitney, Princeton, Detroit, Whitewright, Gatesville, and Hamilton.
The service area of Texas-New Mexico Power, in west Texas (but not including Midland), delivers power to communities including Fort Stockton Pecos, Kermit, and Sanderson.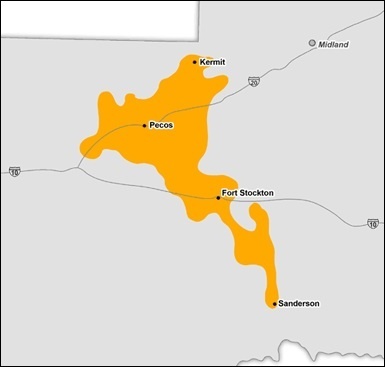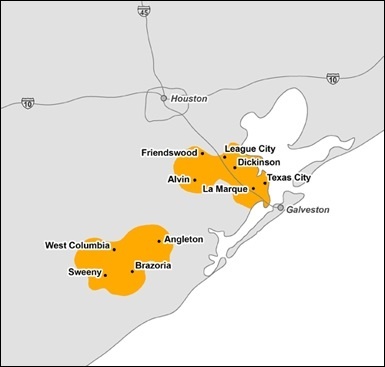 Just south of Houston (CenterPoint service area), Texas-New Mexico Power services areas that include League City, Texas City, Angleton, Friendswood, Brazoria, Dickinson, Alvin, Sweeny, and West Columbia.
Texas-New Mexico Power rates & tariffs
Charges for electricity delivery are regulated by the Texas Public Utilities Commission, and do not change very often (once or twice a year at most). Electricity prices, however, depend on demand and available supply, and can change regularly.
Check out the current rates across all TDUs, including Texas-New Mexico Power rates:
Utility company tariffs in Texas : MARCH 30 2021

| TDU | TDU monthly base fee | TDU ¢/kWh energy rate |
| --- | --- | --- |
| AEP North | $3.57/mo | 3.0078¢/kWh |
| Oncor Electric Delivery | $3.42/mo | 3.4928¢/kWh |
| CenterPoint | $4.39/mo | 3.2669¢/kWh |
| AEP Central | $4.27/mo | 3.7458¢/kWh |
| TNMP | $7.85/mo | 4.0403¢/kWh |
Retail electric providers will have information about their own supply charges, delivery charges, various rates and tariffs when residing in the TNMP service area.
Does Texas-New Mexico Power send electric bills? TNMP, like other utility companies operating in the retail electric market, does not issue electric bills. The retail energy providers manage services directly with customers on behalf of the utility companies, and are in charge of managing service and billing.
Bills sent from the electric provider will contain the delivery charges which TNMP receives as well as the supply charges owed to the retail provider. For any questions concerning an electric bill, customers must directly contact their retail electric provider.
Need financial assistance with paying utility bills?See what national and Texan Energy Assistance programs are available to help pay your electricity bill, the eligibility requirements, and how to apply!
Retail electric providers & Texas-New Mexico Power (TNMP)
Texas-New Mexico Power, like other major electric utility companies, incorporates over 70 retail electric providers (REPs) for customers to choose from, to power consumer households and businesses. Out of all the available electric providers, some of the biggest REPs working with Texas-New Mexico Power include: