Reliant Energy Review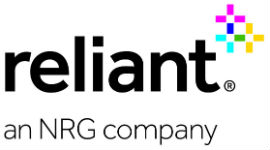 Reliant Energy, an NRG company, serves over 1.5 million residential and commercial customers in Texas. They offer a wide variety of fixed rate plans, many of which include additional rewards (such as free smart thermostats, surge protection, and more).
---
Our Take on Reliant Energy
MOVING OR SWITCHING?Whether you are starting service or looking to choose the cheapest rate for your energy, call us at 832-460-0233 to switch suppliers in minutes!
We think that with the right plan, Reliant Energy could be a good choice of provider. Their prices are generally quite competitive, and their size is a testament to their success in providing quality service. However, as is often the case with larger REP in Texas, they have attracted a number of official and online complaints, mostly related to billing and slamming (see the statistics from the Texas Public Utilities Commission here).
BBB RANKING Reliant Energy was rated A+ by the Better Business Bureau for high responsiviity towards consumer complaints filed against it.
Reliant Energy Prices
Reliant Energy's rates seem in line with competitors' offerings. Note that their lowest rates are for online-based plans (additional fees will be charged to access non-online customer service, such as reaching a customer service representative over the phone), and that plans that come with additional rewards may cost more (higher cents/kWh rate).
Keep in mind that pricing can vary according to where you live. Call us at 832-460-0233 and tell us your zip code to get competing offers and find the lowest prices and best plans for you.
Additional Charges: Reliant Energy charges a monthly base charge along with an additional charge for consumption under 1000 kWh, so your actual price per kWh will depend on how much energy you consume every month.
Thinking About Choosing a Variable Rate?We generally don't encourage customers to choose variable rate plans, because the advertised price is often for the first month only, and prices can rise unexpectedly in later months. Unless you have a specific reason to need a very short term plan with no early termination fee, it is better to lock in your rate with a fixed-term contract.
Reliant Energy Customer Service Reviews
Reliant Energy has a strong record for customer service, and in 2014 was the recipient of the Benchmark Portal top 10 Call Center Award. However, online customer reviews of their experiences with Reliant Energy are mixed, with some reporting friendly customer service, and others reporting unpleasant experiences with customer service. Common themes from online customer reviews include:
Weekly summary emails to track your usage and your bill
Confusion in interaction with customer service representatives
Delivery charges from Oncor and Centerpoint (note: these are standard utility charges, and not charges from Reliant) plans
Terms and Conditions for Plans from Reliant Energy
We've read through Reliant Energy's terms and conditions to highlight some of the more important points:
Right of Recission: if you are switching to Reliant Energy from another REP, you have 3 federal business days during which you can change your mind without penalty or fee
No cancellation fee if you move: make sure to provide a forwarding address and at least 3 business days' notice
Additional charges for consumption below 1,000
However, you should always read through the terms and conditions yourself of every plan that you're interested in.
Not Sure About Reliant Energy?Call us at 832-460-0233 to speak with an energy expert and find the lowest rates available in your area!
Find out more about Reliant Energy
Are you a Reliant Energy customer? Let us know your experiences in the comments below!