Smart Meters Texas

Smart meters in Texas have grown in popularity over the last decade and have subsequently been pushed to replace the traditional electricity meter. These meters (which utilize radiofrequency electromagnetic energy or RF EME) send data about your energy consumption to your electricity or gas provider in 15 to 60 minute intervals, giving you clearer and more accurate information about your energy usage. Here we explain why you might benefit from a smart meter, allowing you to learn more about your energy usage and habits, and lower your electric bill (while preventing frustrating inaccuracies).
---
What is a smart meter?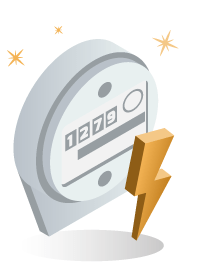 A smart meter is an electricity meter that is able to track how much energy you use and when. A traditional automatic meter reading (AMR) tracks your electricity usage, against which your utility company applies an average price for the previous month in order to determine your bill. However, electricity prices vary throughout the day, spiking in periods of high demand, and falling dramatically during periods of low demand like during the night.
Companies search for better ways of pricing the electricity they provide in order to charge consumers for the electricity that they use and when they use it. Additionally, because smart meters can be read remotely (on-demand), electricity and gas companies value the added efficiency. While smart meters do not constitute a "smart grid", they form an integral part of one.
Pros and cons of smart meters
Pros of a smart meter
Cons of a smart meter

Reduced usage and cost savings
Faster completion of service orders
High data security standards in place
Customer online access to meter data

Transparency concerns towards utility companies
Reports of health issues
Fear of data use and protection
Reported inaccuracy of energy usage
Electric smart meter benefits
Apart from being added to other smart devices on the market, how do we know if a smart meter really lives up to the customer's expectations?
Upon ERCOT's smart meter roll-out, the Public Utilities Commission of Texas noted the following pros:
On-demand reads of each meter.
Faster completion of service orders relating to moving-in and out, meter re-reads, making the switch between REPs, facilitation of disconnections and reconnections, and quicker response to outages.
Reduced usage during peak periods and extreme weather conditions.
Cost savings for utility operations, (less expenditure on meter readings, efficiencies in outage detection, etc.).
The ability to manage response to demand during peak seasons.
Access data gathered on SmartMeterTexas.com Additionally, being able to access to data gathered makes it a bit more convenient than having to step outside and re-discover the actual meter for a reading. And it's not only the ease, but the information derived from the data itself that has shown to be particularly useful in managing the day-to-day and month-to-month usage
Pitfalls with smart meters
Smart meters are regarded as a substantial advance in overall control of electricity (production demand, supply needs, efficiency in service, and household use management). What´s the downside?
Some community organizations have charged that smart meters, which communicate on a wireless system, emit high levels of electromagnetic frequencies that could cause negative health consequences. The Texas Public Utility Commission maintains that EM frequencies are far below the FCC's standard, and that smart meters are safe.
Additionally, opponents have raised privacy concerns regarding the data that is collected by utilities about consumers and their electricity usage habits.
Smart meter complaints and danger
Sifting through smart meter complaints, it's fair to say (and rightly so) that one of the biggest concerns is privacy.
When it comes to the quantity of data that is being collected on our electricity use, how that data is used and any potential abuse can throw up some serious red flags (not to mention the possibility of it being hacked or stolen). Which is why it is all the more important for grids to have strong privacy protections in place.
What data is gathered? Concerning the type of data, we can all rest assured knowing that no customer-identifying information (like names and addresses) is collected. In fact, smart meter data contains the same exact type of data that was reported from the older analog meter - just much more of it! The typical read time for smart meters is about every 15 minutes, meaning a reading frequency of x2,880 more than the monthly-read analog meter.
Is my data protected? The protection level of this usage data is top-notch. Digital smart meter data (safeguarded using the same advanced methods seen in online banking and ATMs) is encrypted or coded, then sent through a system-spanning, multi-layer secured network to the utility.
The utility company's security standards are kept up to date as they work alongside the Department of Homeland Security, the Department of Energy, and the National Institute of Standards and Technology - all in the name of consumer protection.
For more info on smart energy and grid modernization, check out Smart Energy Consumer Collaborative.
Other eletric smart meter concerns
Apart from smart meter data, other common concerns include:
Inaccuracy of electricity usage as alleged by users seeing spikes in billing (although, investigative reporting by the Texas Tribune in 2010 showned the smart meters having an accurracy of 99.96%).
Lack of transparency by utility companies that may try to leverage the richly dense data to discretely switch up energy rates at specific times during the day (as brought to light in a class-action lawsuit against Oncor which was eventually dismissed).
Reported health issues although it is worth noting a state's Supreme Court has ruled that smart meters pose no credible health or safety threat and based its opinion on over 100 peer-reviewed scientific studies about the tech's safety impacts.
Smart meters were initially met with annual bans by select counties across the US during the first half of the 2010's. Smart meters today are considered the "new standard" and the traditional analog meters are becoming more of a thing of the past.
What's the alternative to an electric smart meter?
Well, if you're still feeling skeptical, a choice remains but at a cost. Users who wish to opt-out of, or replace a smart meter with a traditional one have the right to do so, but could face one-time or recurring charges for either keeping an analog meter in place, or having a smart meter removed and replaced with an analog meter. Here are the costs :
American Electric Power (Central Texas) - $200 to keep an analog meter, or $300 + $18/month to replace a smart meter with an analog one.
American Electric Power (North Texas) - $200 to keep an analog meter, or $356 + $35/month to replace a smart meter with an analog one.
Oncor - $400 to keep an analog meter, or $842 + $25/month to replace a smart meter with an analog one.
How can a smart meter affect your electricity bill?
Having a smart meter can help you to save you money! A smart meter is often combined with a smart monitor, a device that notifies you of your real time electricity consumption.
By adapting or aligning your electricity-related routines to the least expensive parts of the day (like running the dishwasher at night), and by giving you information that can help you moderate your electricity use, a smart meter could potentially save you money on your monthly electric bill.
One study found that on average, smart meters help reduce electricity consumption by 3 to 5%!
Of course, a smart meter could also result in higher electricity prices if much of your consumption occurs during peak periods, where the market price of energy is above what the average, end-of-month price would be.
A smart meter is not the only factor that can have an impact on your utility bill. Consumers must also be aware of how providers can opt to use minimal usage fees and/or base fees in the plans that they offer.
Smart meters in Texas
Smart Meter Texas™ (SMT) - endorsed by The Public Utility Commission of Texas - provides secure customer access to their stored smart meter data and is a collaborative effort involving the following five big utility companies:
Austin Energy has been one of the Texas utilities to roll out smart meters on a large scale. Having begun in 2008, Austin Energy has so far deployed nearly 400,000 residential and commercial smart meters.
In Houston, Centerpoint Energy is currently upgrading its network to provide smart meters to its 2 million customers, and even got a $200 million grant from the U.S. Department of Energy to do so.
Dallas based Oncor Electric completed delivery of smart meters to its 3 million electricity customers in 2013. Its smart meters can determine electricity prices at 15-minute intervals.
CPS Energy in San Antonio equipped all of its customers (both electricity and gas) with smart meters at the end of 2016, and has made real-time data available to customers on its website.