Frontier Utilities
Frontier Utilities offers electricity and gas options in three states. A winner of the Better Business Bureau award for distinction in energy services, the company offers numerous fixed and variable rate options.
---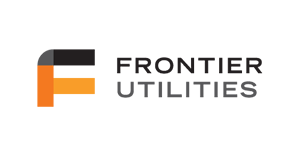 Service Area
Frontier Utilities supplies electricity to New York, Pennsylvania, and Texas.
Customer Reviews
Customers report high satisfaction with savings on fixed rate plans and with the quality of customer service.
However, some consumers are disappointed that lower rates are only offered to new customers of Frontier Utilities. Additionally, there may be charges to speak with customer service representatives. There may be other hidden charges as well, for paper billing for instance. Customers find these issues bothersome.
To read more reviews, along with our opinion, read our Frontier Utilities reviews page.
Rate Plans Available
There are fixed and variable plans with Frontier Utilities, with pay as you go and green energy options.
Fixed Rate Options
With a fixed rate plan, the rate you pay for electricity per kilowatt hour is guaranteed to remain the same for your entire contract period. You may be required to pay a deposit or pass a credit check in order to open a fixed rate plan with Frontier Utilities.
Fixed rate contracts with Frontier Utilities may feature a monthly fee, on top of the price you pay for your electricity consumption. In Texas the fee is $5.95 month, but in New York and Pennsylvania there are no monthly fees.
Contract lengths available with Frontier Utilities include:
6 months
9 months
12 months
18 months
24 months
If you terminate your contract before the final date, Texas customers may be charged a termination fee ranging from $100-175, depending on the length of your contract. However New York and Pennsylvania customers do not have an early cancellation fee on fixed rate plans.
You must give ten business days' advance notice to cancel. If you do not cancel or renew your contract, you will automatically be put onto Frontier Utilities' variable rate plan at the end of your contract period.
We recommend fixed rate contracts for periods of at least 18 months to shield you from the rise in electricity prices over time.
Variable Rates
With variable rate plans, the rate of electricity can change each month based on market conditions. However with alternative suppliers, your monthly rate is not regulated and may vary greatly from one month to the next. There are also many hidden fees on variable rate plans with Frontier Utilities, including "move-in" and "disconnection" charges of $20 each, and up to $5 for customer service calls and credit card processing fees.
Some customers like the flexibility of no contract or cancellation fee. Additionally, there is no credit check or deposit required. However, variable rate plans may end up hurting consumers in the long run due to the lack of rate stability.
Plan Features
Auto Pay and E-Billing
Some plans offer autopay, which means that your balance is automatically deducted from your bank account or credit card each month. E-billing is another common feature, where you receive your invoice and monthly balance via email instead of receiving a paper bill at your home.
If your plan does offer auto pay and e-billing, you may be charged fees for declining either service. For example, every time consumers receive a paper bill or make a payment outside of auto pay, there may be a fee. Additionally, there may be an additional 5 cent charge per kilowatt-hour for not using these services.
Green Energy
There are environmentally friendly green options on both fixed and variable rate plans with Frontier Utilities. This means that the energy delivered to your home comes from 100% green sources of electricity, including wind, solar, biomass, and more. The type of renewable energy offered depends on your location and availability. Green energy resources are favored since they create little to no negative impact on the environment during the generation of electricity. 
Prepaid Plans
Offered on variable and fixed 3 month rate options, pay as you go plans with Frontier Utilities offer customers the flexibility to pay when they can. Consumers can add money to their accounts as they can, instead of paying their charges all at once in one monthly bill. Frontier Utilities sends customers a notification text message or email when finances are low. There are no deposits or credit checks required on prepaid plans.
Awards
Based in Houston, Texas, Frontier Utilities won the Distinction Award from the Better Business Bureau in 2014 in the Energy Services category.
Contact Information
New customers can contact Frontier Utilities at 1-866-926-8192, from Monday through Friday, 7 AM to 6 PM, and Saturday from 8AM to 2PM. All times are Central Standard Time. Read more contact information for Frontier Utilities, including different ways to pay your bill.