RG&E in New York State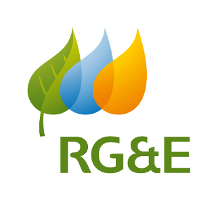 Rochester Gas & Electric is an electricity & gas utility company in New York State based in Rochester, NY.
---
Service Map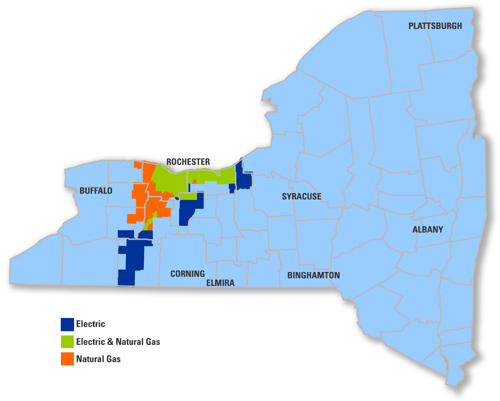 A more detailed map is available here: http://www.rge.com/MediaLibrary/2/5/Content%20Management/RGE/YourHome/P…
Contact RG&E
Its headquarters are located at:
89 East Avenue, Rochester, NY, 14649
You can reach RG&E on the following numbers:
For customer service: 800-743-2110 (7:00 AM - 7:00 PM (Mon - Fri)).
By mail at the following postal address:
89 East Avenue, Rochester, NY, 14649
By email at http://www.rge.com/WritetoRGE.html
For emergency service (800) 743-1701 (24/7).
Payment by credit card over the phone on (877) 266-3492 is possible between 7am-7pm (Mon-Fri).
Complete RG&E Contact Information
Understanding your Bill
For you to understand your RG&E bill, we have created page of detailed explanation of each part of your bill: Understanding your Bill.
Rates & Tariffs
For more information about rates and tariffs with RG&E, please click here: Rates & Tariffs.
Electric Supply Prices
For historical values of electricity supply prices. You will find here 2014 values for the price of the electricity supply. The RG&E electricity supply prices are divided per region, so we have showed average prices over the whole territory and prices which are specific to each territory. You will find which territory you are with a table listing the cities in each territory.
Budget Billing
Budget Billing is a method for the customers to spread out their bill equally over the year, in order to avoid irregular monthly bills, mostly caused by market and seasonal variations. To sign up, and for additional information, please visit our RG&E Budget Billing page.
Scope of Activity
Transmission & Distribution:
900 miles of transmission lines
7,597 

miles of distribution lines
Area:
RG&E covers an area of about 2,700 square miles (6% of upstate New York), and serves a primarily urban area composed of 1 large city and 80 towns and villages.
Customers:
371,000 electricity customers and 307,000 natural gas customers
Allowed suppliers:
85 electric suppliers

55 gas suppliers
Grid capacity:
RG&E's all-time record peak load: 1,752 MW maximum grid capacity (reached July 21, 2011)
Employees:
2,700 employees
History
Before RG&E, was created, the Rochester Gas Light Company existed from the 1850's to the 1880's. Around 1865, the company was servicing approximately 2,500 customers, and the city was lit by 657 street lamps. But in March 1865 Rochester suffered the worst flood in the city's history, cutting the gas supplies for 5 years. With the arrival of the electric light in the 1870's, the Rochester Gas Light Company lost the monopoly of light in Rochester. RG&E was formed in 1892 from the merger of:
The Rochester Electric Light Company

The Edison Electric Company

The Rochester Gas Light Company
​
RG&E is a power distribution company in USA. The registered office is located in :
89 East Avenue
14649 Rochester
Opening hours: 7:00 AM - 7:00 PM (Mon - Fri)
RG&E email contact: http://www.rge.com/WritetoRGE.html
Activate your account with RG&E
You are moving and wish to activate your account with RG&E? It's simple. Call RG&E by dialing and give :
Your exact address (apt. no., street no., street name, city/town, zipcode).
Your name.
Date of required activation.
Speak with a customer service agent
Do you have a question related to a commercial issue? Call the RG&E customer service by dialing . They can help you with questions such as you bill, rates, or the terms of your contract.
Phone number: 800-743-2110 / 800-743-1701
Pay your bill
When you activate your line and create an account in your name, RG&E may ask you to pay your bills by several options:
By automatic account transfer.
Check sent by mail.
Credit or debit card by telephone.
Cash or card at an authorized payment office.