National Grid in New York State
National Grid is one of the largest investor-owned electricity and gas companies in the world, and is based in northeastern US and the UK. The company delivers electricity and gas to millions of customers across New York, Massachusets, and Rhode Island.
---

Moving to New York State? Call us at phone currently not available to activate your National Grid service and supply with an ESCO in minutes!
Service Map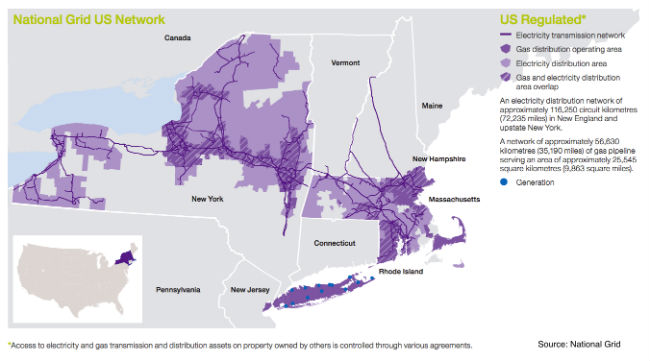 Contact National Grid
You can reach National Grid on the following numbers:
For Customer Service from Mon - Fri, 7:00 AM - 5:00 PM:

Long Island and the Rockaways: 1-800-930-5003 (Tri-state area), or 631-755-6200
Metro New York: 718-643-4050
Upstate New York: 1-800-642-4272

For emergency service 1-800-867-5222 (24/7).
By mail at the following postal address: 300 Erie Blvd W, Syracuse, NY 13202.
Payment by credit card over the phone at 1-888-849-4310 is possible 24/7.
Haven't found what you're looking for?Find detailed contact information for National Grid.
Understanding Your Bill
Check out our guide to understanding your National Grid bill to learn how to read and save money on your energy bill.
Rates & Tariffs
If you want more detailed information about the rates and tariffs charged by National Grid, we've got that too. Check out our article on National Grid rates and tariffs for an in-depth breakdown of all of the rate items charged by National Grid.
Want to Save Money on Your National Grid Bill? In New York, you have the power of choice for your electricity and natural gas supply. Call us at phone currently not available to find the best rates in your area
Electric Supply Prices
Check out our explanation of National Grid historical electricity rates. You will find here 2014 values for the price of the electricity supply. The National Grid electricity supply prices are divided per region, so we have showed average prices over the whole territory and prices which are specific to each territory. You will find which territory you are with a table listing the cities in each territory.
Budget Plan
Gas prices are notoriously volatile, which can lead to highly unpredictable bills. You can avoid nasty surprises on your bill through National Grid's budget plan, which allows you to spread out the cost of your bill equally over the year. Learn more about National Grid's Budget Plan, including how to sign up.
Scope of Activity
National Grid PLC is an international electricity and gas company based in the UK and northeastern US. The company is headquartered in the UK, and National Grid USA is a subsidiary, incorporated in Delaware. In the US National Grid provides delivery and supply services of electricity and natural gas for residential as well as commercial and industrial customers. National Grid in the U.S. owns and operates the following historical utilities:
Massachusetts Electric Company - electricity distribution
Nantucket Electric Company - electricity distribution
Boston Gas Company - natural gas distribution
Colonial Gas - natural gas distribution
Narragansett Electric Company - electricity transmission and distribution
Niagara Mohawk Power Corporation - electricity transmission and distribution; natural gas distribution
Brooklyn Union Gas Company - natural gas distribution
Keyspan Gas East Corporation - natural gas distribution
New England
New England Power Company - electricity transmission
National Grid USA by numbers
8,600 miles: electricity transmission lines (upstate New York, Massachusetts, Rhode Island, New Hampshire and Vermont).
72,235 miles: electricity distribution lines (New England and upstate New York)
35,190 miles of gas pipelines serving an area of approximately 9,863 square miles.
1.6 million: electric customers in upstate New York
520,000: gas and electric customers spanning more than 7,200 square miles
4,700 employees in upstate New York
$7.2 Billion: operating revenue in 2013
History
In the UK, the Central Electricity Generating Board (CEGB) was created in 1957 to manage the generation and transmission of electricity in England and Wales. In 1990, under the laws of deregulation, this entity was broken up into 3 electricity generating companies, and 1 transmission company called National Grid. In 2002, National Grid merged with the UK gas distribution business to become a Transmission and Distribution business. Previously that year, National Grid acquired Niagara Mohawk, one of the New York State utility companies. In 2006, National Grid acquired KeySpan, a gas distributor in the US, as well as the New England Gas Company in Rhode Island, which doubled National Grid's size in the US, making it one of the biggest utility companies in the US.
is a power distribution company in USA. The registered office is located in :
Activate your account with
You are moving and wish to activate your account with ? It's simple. Call by dialing and give :
Your exact address (apt. no., street no., street name, city/town, zipcode).
Your name.
Date of required activation.
Speak with a customer service agent
Do you have a question related to a commercial issue? Call the customer service by dialing . They can help you with questions such as you bill, rates, or the terms of your contract.
Pay your bill
When you activate your line and create an account in your name, may ask you to pay your bills by several options:
By automatic account transfer.
Check sent by mail.
Credit or debit card by telephone.
Cash or card at an authorized payment office.