North American Power provides competitive electricity and natural gas rates sourced from renewable energy to residential customers in 12 states.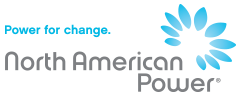 Service Area
North American Power serves residents in 12 US states with electricity and natural gas.
Rate Plans
Fixed Rates
With Fixed Rate plans, consumers can lock in the same rate for natural gas and electricity for their entire contract period. There are some important details to keep in mind:
Renewable energy options available 
Early termination fees - $10.00 for each month left on contract
Contract length - 6 or 12 months
Variable Rates
North American Power also offers variable rate plans, where the rate changes each month based on market costs. There is no cancellation fee, and green energy plans are available.
Customer Reviews
Fixed rates can offer a good deal, according to customers. Customer service also often receives good reviews.
In contrast, customers report that variable rates spike too much and can be unfairly high after initial attractive rates. In addition, North American Power's sales tactics are often considered misleading or not transparent.
Read more North American Power reviews, including our analysis.
Green Energy
North American Power offers a number of green energy options, including both fixed and variable rates. There are 25% and 100% renewable options.
Options include:
Renewable energy delivered to your home
Renewable Energy Certificates (REC)

Pay for green energy production elsewhere
Green energy is not delivered to your home
Compensate for your use

Clean gas: carbon offsets

Cover 25-100% of your use
Compensate for your carbon use, including investments in green energy projects
Perks
Referral Rewards
Consumers on 25% or 100% renewable energy programs can earn a full month of energy after referring a certain number of friends. Customers can also become sales agents of North American Power by referring larger numbers of clients.
Donations to Charity
National American Power donates $1 per customer, per month to local and national charities.
Contact North American Power
You can contact North American Power customer service at 1-888-313-9086, for all customers outside of Georgia and Texas. Read complete contact information for the company.
Background
Originally known as North American Power & Gas, the company was established in 2009. North American Power was ranked 57th in Forbes' list of the 100 most promising companies in 2011.