North American Power Reviews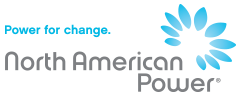 North American Power is an alternative natural gas and electricity supplier established in 2009. Many customers appreciate savings on fixed rate plans, while others wish variable rates were more stable.
Our Analysis
Fixed rate plans with North American Power can deliver savings. It is important however to be aware of when your contract will end, as rates automatically become variable at the end of your term. We do not recommend variable rate plans. Customers appreciate green energy options, and customer service is considered friendly.
However, there are allegations that the company has intentionally misled customers in order to get them to sign up for service. Compare reviews with other suppliers.
Plans Available
Plans available
Details
Cancellation fees & contract lengths
Our thoughts
Fixed Rate Plans

Rates remain the same for entire contract period
Available with 25-100% green energy & offsets

Contracts: 6 or 12 months
Cancellation fees: $10/month remaining in contract

Recommended:

Natural gas: 6 or 12 months
Electricity: 12 month + green

Variable Rates

Rates change each month
Available with 25-100% green energy & offsets

No contract
No cancellation fees

Not recommended
Savings on Fixed Rate Plans
Customers state that they are pleased with how much they can save with fixed rate plans. We recommend fixed rate plans, as long as you pick a good contract length and capture a competitive rate to last the length of your contract.
Natural Gas Plans
For natural gas, we recommend choosing a 6 or 12 month fixed rate plan. This is because the market price of natural gas per therm changes so much from one season to the next, that a fixed rate plan can shield you from price spikes in the summer, when gas is ironically the most expensive. The price of natural gas is falling over time in the United States, so a longer fixed rate plan would not be a good deal.
Electricity Plans
The market for electricity is actually a bit different. We recommend that customers choose plans for periods longer than 12 months, because the price of electricity per kilowatt-hour fluctuates so much over the course of one year that you may not be able to take advantage of lower prices when the market price drops. The price of electricity is rising over time however, so longer fixed rate contracts may be a good deal. 
With North American Power, we recommend 12 month green electricity plans, because though savings may not be as sure as with a longer plan, the added value of green energy is worth it to many consumers.
Good Customer Service Experiences
Some people report that customer service representatives are friendly and helpful with answering questions and resolving account issues.
Green Energy Options
Many customers are pleased with the option to add 25-100% green energy to their natural gas and electricity plans and still be able to pay affordable fixed rates.
On green plans with North American Power, you can choose electricity plans where energy is generated from renewable sources and delivered to your home. Additionally, the company offers plans with Renewable Energy Certificates (RECs) which support the generation of green energy elsewhere in the US, based on a percentage of your consumption. For green natural gas customers, North American Power compensates for a certain percentage of your usage with carbon offsets, which work very similarly to RECs.
Losses with Variable Rates
Many consumers report that rates are only attractive for the first month on variable rate plans. Soon after, customers feel that rates may double or triple compared to what their local utility offers. We do not recommend variable rate plans with North American Power.
Automatic Rate Change at End of Fixed Contracts
Some customers do not appreciate that fixed rates automatically become variable at the end of their contract period. Many have not felt prepared for this, stating that they never received a renewal notice to alert them that their plan would expire soon.
Mediocre Better Business Bureau Rating
The company has a C rating from the Better Business Bureau (BBB) for its customer service practices. According to the BBB, North American Power has responded well to official customer complaints, and has worked to resolve them. However, the company has not made a sufficient effort to change the root cause of these issues, and so the same pattern of complaints continues. Additionally, North American Power has received a large number of official complaints for a company of its size.
Misleading Sales
The most common complaint against North American Power according to the BBB is related to sales practices that some customers allege are intentionally misleading.
These complaints include that telemarketing representatives have not correctly identified themselves as North American Power employees in order to get customers to sign up for service.
Others state that the company makes false savings promises in order to get new clients to sign up. Some customers state that they joined North American Power because they were told they would save on variable rate plans, but rates ended up being more expensive than their local utility. The company did offer cost adjustments to many customers who filed complaints. 
Company Information
Founded in 2009, North American Power serves 12 states for natural gas and electricity service. It was ranked among Forbes' most promising 100 companies in 2011, at #57. The company was originally known as North American Power & Gas.