Energy Star Explained
If you're in the market for new appliances, or are looking to improve your energy efficiency, you may have heard of the ENERGY STAR label. But what is it, and what does it mean? Is it worth it? Here we explain how you can save money with ENERGY STAR.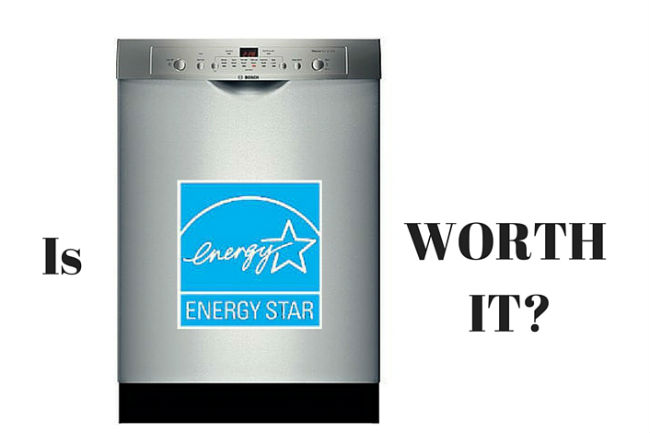 What is ENERGY STAR?
ENERGY STAR is a program created by the US Environmental Protection Agency (EPA) that helps consumers and businesses improve their energy efficiency, saving the climate and money along the way. It was created in 1992, under the authority of the Clean Air Act, and has since then been adopted in many other countries, including Australia, Canada, the European Union, Japan, New Zealand, and Taiwan.
The ENERGY STAR label identifies and promotes energy efficient products, homes, and buildings, and provides education about energy effiency for consumers and businesses. Businesses and public sector organizations can also partner with the ENERGY STAR program for technical information about energy efficiency and to learn best management practices. According to their 2014 overview of achievements, in 2014 ENERGY STAR helped Americans save more than 300 million metric tons of GHGs from being emitted through energy savings, and helped consumers and businesses make energy-efficiency investments that reduced utility bills by $34 billion dollars.
What's the Difference Between ENERGY STAR and EnergyGuide?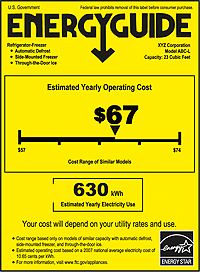 The EnergyGuide label indicates the performance of appliances in standard test procedures required by the US Department of Energy to prove energy efficiency. These yellow labels indicate how much energy an appliance uses, and compares its energy consumption to other models (so that you know whether its energy consumption is above or below the average). The EneryGuide also provides a dollar estimate of the yearly operating cost based on the national average price of electricity.

The ENERGY STAR label, on the other hand, identifies the "best in class" products in terms of energy efficiency. You can find the ENERGY STAR label at the bottom of the EnergyGuide label for qualified products. ENERGY STAR certification can be applied to products, homes, and buildings.
What Kind of Products Does ENERGY STAR Cover?
While the ENERGY STAR label started with only computer and printer products, it has since expanded to cover more than 70 product categories. Types of products for the home covered by ENERGY STAR include:
Home electronics, such as televisions, computers, computer monitors, cordless phones, computer monitors, and battery chargers
Home appliances, including clothes washers, refrigerators, and dishwashers
Heating and cooling equipment, including air conditioners, heat pumps, and residential water heaters
Ventilation and ceiling fans
Windows, including skylights
Lighting (light bulbs)
Imaging equipment, such as printers, fax machines, and photocopying machines
Building products, including roof products & insulate
ENERGY STAR also covers many products for businesses and local government. You can find a list of all of the types of products covered by ENERGY STAR on their website.
Since 1995, new homes can also be ENERGY STAR-certified. ENERGY STAR-qualified homes can deliver up to 30 percent energy savings compared to typical new homes, and have gone through a process of inspections, testing, and verification to meet the EPA's requirements. Homes that have been renovated after a home energy audit can also achieve ENERGY STAR certification.
How Do ENERGY STAR Products Help Save Money?
ENERGY STAR-certified products are the most energy-efficient products available on the market. Depending on the appliance they must be 10 to 20% more efficient than the minimum regulated standard to achieve ENERGY STAR status. The ENERGY STAR program also provides information and tools to help you determine how to use appliances more efficiently.
Is ENERGY STAR Worth It?
Pros of ENERGY STAR
Cons of ENERGY STAR

Decreased operating costs: ENERGY STAR products are the most efficient models of their type, meaning that they cost the least to run
Environmentally friendly: Reduced energy consumption means reduced environmental impact, including fewer GHGs
Possibility of tax credits/rebates: many utilities and local governments offer incentives for ENERGY STAR

Cost: ENERGY STAR products come with a price premium, and may not be accessible to all consumers
In general the benefits greatly outweigh the costs when it comes to ENERGY STAR products. While they certainly are more expensive to purchase up-front, in most cases the savings you make on operating them will quickly pay for any price premium. If you aren't sure whether upgrading to ENERGY STAR is worth it, check their website, which offers some tools to help you determine energy savings through participating in the ENERGY STAR program.
Can I Get Rebates for ENERGY STAR products?
Many municipalities and utilities throughout the US offer rebates or incentives to promote ENERGY STAR. Check with your local government or your utility to see if there are any rebates available for ENERGY STAR products or reaching ENERGY STAR certification for your home.
How Else Can I Save Money on Energy?
Choosing ENERGY STAR products is a great way to improve energy efficiency about the home and to ensure that you aren't using more energy per month than necessary. If you're looking to go further in cutting your energy consumption, check out some of our other tips on how to save energy around the home, including how to use your air-conditioner more efficiently, and why you should consider getting an energy audit done on your home.
Another way to reduce your monthly bills is to take a look at the rate you currently pay for electricity and/or natural gas, and see if it can't be beat by what's on offer from an alternate supplier. In many states throughout the US, energy customers have a choice of supplier. While you may be perfectly happy with your utility or current supplier, it doesn't hurt to check out what's on offer from the competition - alternate suppliers offer wider rate options and can often present great deals.
Find out if you have the power of choice!Call us at phone currently not available to find the best rates available in your area