Public Service Electric & Gas (PSEG)
PSEG is the largest investor-owned electricity and gas utility company in New Jersey, in number of customers, and is based in Newark, NJ. The company delivers electricity and gas to 2.2 million customers New Jersey and Long Island, NY.
---

Moving to New Jersey? Call us at phone currently not available to activate your PSEG service and supply with an ESCO in minutes!
Service Map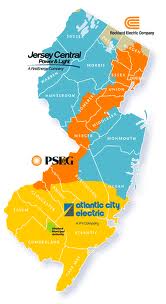 Contact PSEG
You can reach PSEG on the following numbers:
For Customer Service from Mon - Fri, 7:30 AM - 8:00 PM: 1-800-436-PSEG (7734)
For emergency service 1-800-880-7734 (24/7).
By mail at the following postal address: PSEG, P.O. Box 490, Cranford NJ 07016.
Payment by credit card over the phone at 1-800-357-2262 is possible Mon-Fri, 7:30am - 8pm.
Haven't found what you're looking for? Find detailed contact information for PSEG in New Jersey.
Understanding your Bill
Check out our guide to understanding your PSEG bill to learn how to read and save money on your energy bill (coming soon).
Rates & Tariffs
If you want more detailed information about the rates and tariffs charged by PSEG, we've got that too. Check out our article on PSEG Rates and Tariffs for an in-depth breakdown of all of the rate items charged by PSEG.
Want to Save Money on Your PSEG Bill? In New Jersey, you have the phone currently not available to find the best rates in your area
Electricity and gas prices are volatile, which can lead to unpredictable bills. You can avoid nasty surprises on your bill through PSEG's budget plan, which allows you to spread out the cost of your bill equally over the year. Learn more about PSEG's Budget Plan, including how to sign up.
PSEG is an electricity and gas company based in New Jersey and active in New Jersey and Long Island, NY. PSEG provides delivery and supply services of electricity and natural gas for residential as well as commercial and industrial customers.
PSEG was formed in 1903, when more than 400 gas, electric and transportation companies in New Jersey amalgamated into the Public Service Corporation. The company was renamed Public Service Electric and Gas Company (PSE&G) in 1948. The company restructured in 1985, and then again in 200 (in connection with the restructuring of the industry in New Jersey). Today, PSEG is a publicly traded diversified energy company (NYSE: PEG), with 2014 annual revenues of approximately $11 billion. PSEG was ranked 274 on the Fortune 500 list for 2015.
Public Service Electric & Gas is a power distribution company in USA. The registered office is located in :
80 Park Plaza
07101 Newark
Opening hours: 7:00 am to 8:00 pm (Mon-Fri), 8am - 5pm (Sat)
Activate your account with Public Service Electric & Gas
You are moving and wish to activate your account with Public Service Electric & Gas? It's simple. Call Public Service Electric & Gas by dialing and give :
Your exact address (apt. no., street no., street name, city/town, zipcode).
Your name.
Date of required activation.
Speak with a customer service agent
Do you have a question related to a commercial issue? Call the Public Service Electric & Gas customer service by dialing . They can help you with questions such as you bill, rates, or the terms of your contract.
Phone number: 800-436-7734 / 800-436-7734
Pay your bill
When you activate your line and create an account in your name, Public Service Electric & Gas may ask you to pay your bills by several options:
By automatic account transfer.
Check sent by mail.
Credit or debit card by telephone.
Cash or card at an authorized payment office.