New York State Electric & Gas in New York State
New York State Electric & Gas is an electricity & gas utility company in New York State based in Rochester, NY.
---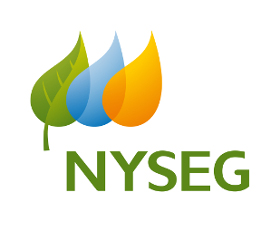 Service Map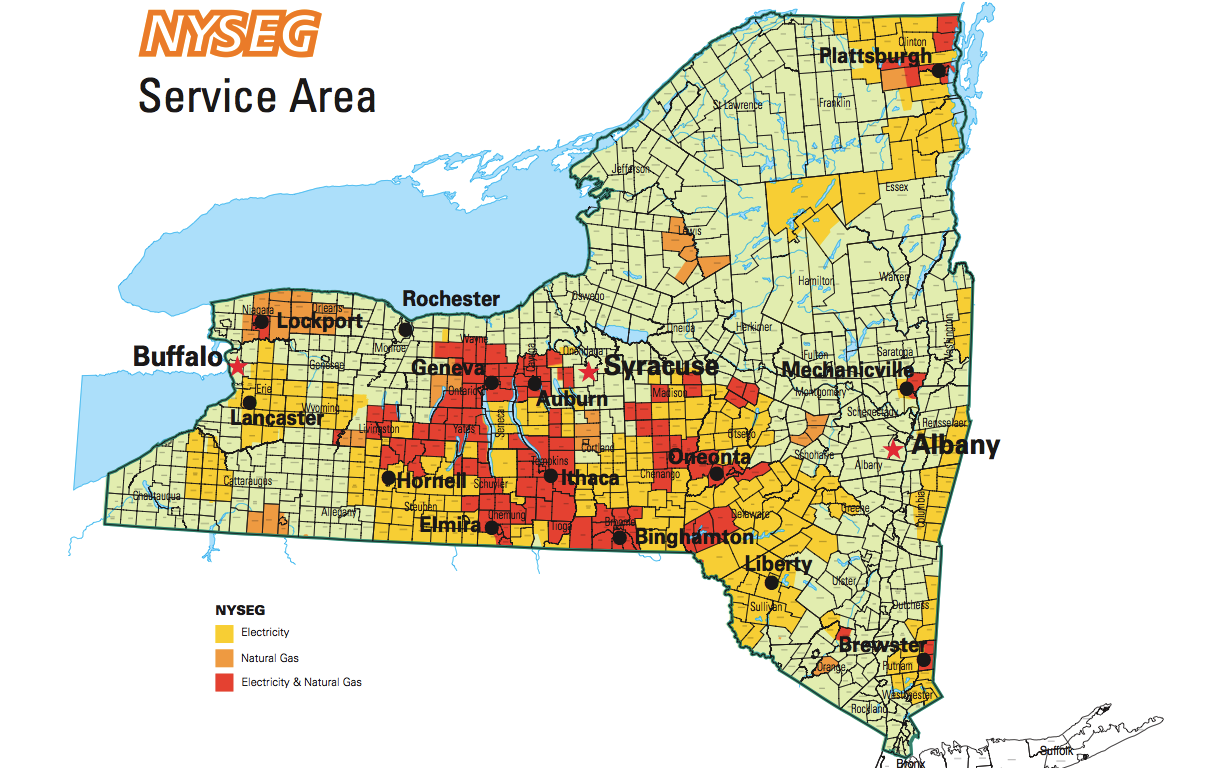 Click here for a full sized PDF version of this map
Contact NYSEG
NYSEG headquarters are located at:
89 East Avenue, Rochester, NY, 14649
You can reach NYSEG on the following numbers:
For customer service: 1.800.572.1111 (Monday through Friday, 7 a.m. to 7 p.m).
By mail at the following postal address:
89 East Avenue, Rochester, NY, 14649
Complete NYSEG Contact Information
Understanding your Bill
For you to understand your NYSEG bill, we have created page of detailed explanation of each part of your bill: Understanding your Bill.
Rates & Tariffs
For more information about rates and tariffs with NYSEG, please click here: Rates & Tariffs.
Electric Supply Prices
For historical values of electricity supply prices. You will find here 2014 values for the price of the electricity supply. The NYSEG electricity supply prices are divided per region, so we have showed average prices over the whole territory and prices which are specific to each territory. You will find which territory you are with a table listing the cities in each territory.
Budget Billing
Budget Billing is a method for the customers to spread out their bill equally over the year, in order to avoid irregular monthly bills, mostly caused by market and seasonal variations. To sign up, and for additional information, please visit our NYSEG Budget Billing page.
Scope of Activity
Electricity:
32,881 miles of distribution lines
4,480 miles of transmission lines
Gas:
7,800 miles of gas distribution pipeline.
Customers:
873,000 electricity customers and 259,000 natural gas customers
Customers in a 18,000 square mile area of central, eastern, and western New York.
More numbers:
NYSEG's all-time record peak load: 3,345 MW on July 21, 2011
Employees: 4,845
Revenue: $1.50 billion
Alternate suppliers:
The NYSEG network is open to competition for the retail supply of electricity. There are more than 80 electricity alternate suppliers and more than 50 gas alternate suppliers you can choose to purchase your electricity gas from.
Plants:
The company also owns several hydroelectric power generation facilities. Here is a list of all the power plants that NYSEG operates:
| Plant name | City | Power | Plant type |
| --- | --- | --- | --- |
| Auburn State Street | Cayuga | 7 MW | Gas Turbine |
| Cadyville | Clinton | 5.5 | Hydro |
| High Falls | Clinton | 15 | Hydro |
| Kent Falls | Clinton | 12.4 | Hydro |
| Keuka | Steuben | 2 | Hydro |
| Mill C | Clinton | 6 | Hydro |
| Rainbow Falls | Clinton | 2.6 | Hydro |
| Upper Mechanicville | Saratoga | 16.4 | Hydro |
History
The New York State Electric Gas Corporation was created 1852 as the Ithaca Gas Light Company. Between its creation and the 1st half of the 20th century, this initial corporation went through mergers and acquisitions which regrouped approximately 200 small utility companies into the brand NYSEG. Today, NYSEG provides electricity and gas over 35% of New York State's area. Together with RG&E, NYSEG is a subsidiary company of Iberdrola USA, an energy services and delivery company servicing 2.7 million customers in upstate New York and New England. Iberdrola USA is itself a subsidiary of Iberdrola S.A., a Spanish public multinational electric utility company employing about 28,137 people distributed in about 40 countries accross the Globe.
NYSEG is a power distribution company in USA. The registered office is located in :
89 East Avenue
14649 Rochester
Opening hours: Monday through Friday, 7 a.m. to 7 p.m
Activate your account with NYSEG
You are moving and wish to activate your account with NYSEG? It's simple. Call NYSEG by dialing and give :
Your exact address (apt. no., street no., street name, city/town, zipcode).
Your name.
Date of required activation.
Speak with a customer service agent
Do you have a question related to a commercial issue? Call the NYSEG customer service by dialing . They can help you with questions such as you bill, rates, or the terms of your contract.
Phone number: 1.800.572.1111 / 1.800.600.2275
Pay your bill
When you activate your line and create an account in your name, NYSEG may ask you to pay your bills by several options:
By automatic account transfer.
Check sent by mail.
Credit or debit card by telephone.
Cash or card at an authorized payment office.