AP Gas & Electric (AP G&E)
Based in Houston, Texas, AP G&E provides service in seven states.
---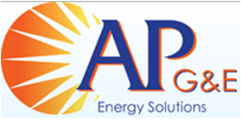 Service Area
AP (Affordable Power) Gas & Electric serves electricity customers in Illinois, Maryland, New Jersey, New York, Ohio, Pennsylvania, and Texas. Though the company used to provide natural gas service, it currently only provides electric.
Business Customers
AP Gas & Electric also serves business customers in the above markets.
Consumer Reviews
Some customers report that fixed rate plans end up being a good deal, and savings are noticeable. Other customers have had positive experiences with customer service representatives over the phone.
However, some consumers feel that sales practices are not transparent. Additonally, deceptive methods may be used to enroll new customers.
Read more reviews, including our take, on our AP Gas & Electric customer reviews page.
Variable & Fixed Rates
The rate you pay for electricity per kilowatt-hour is drastically affected by whether you choose a variable or fixed rate plan.
Customers are often lured by variable rate plans since they do not have a cancellation fee, and there is no contract involved. However, because rates are not regulated they often skyrocket after the first few months.
Fixed rate plans are preferable. Term lengths range from 12-36 months, and there are early cancellation fees. Read more about common contract conditions.
| Term Length | Early Cancellation Fee |
| --- | --- |
| 12 months | $150 |
| 24 months | $250 |
| 36 months | $350 |
You can avoid an early termination fee if you provide AP G&E with:
Proof that you are moving to a new home
Your forwarding address
You will receive only one bill from your local utility after changing to AP Gas & Electric.
Deposits
Based on your credit history, AP G&E may require a $300 deposit to open a new account.
Auto Pay Options
Customers have the option to sign up for auto pay with their AP Gas & Electric service. On the AP G&E website, you can create an account and enter your credit card information to start automatic payment. Payments are withdrawn 2-3 business days before your due date.
Contact Information
You can reach AP Gas & Electric's main customer service line at 1-855-544-4895 at the following times:
Monday - Thursday, 8 am to 7 pm (CST)
Friday, 8 am to 5 pm (CST)
Saturday, 9 am to 1 pm (CST)
For local and email information, check out our AP Gas & Electric contact page.
Headquarters
AP Gas & Electric is based out of Houston, Texas where it was founded in 2004. It was originally known as Affordable Power, LP.