Entrust Energy
Fast-growing Entrust Energy supplies natural gas and electricity to over 100,00 customers across eight states and places strong emphasis on positive customer service experiences for its customers.
---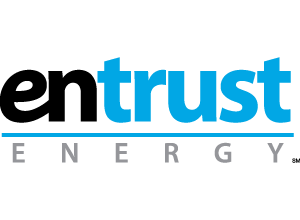 Entrust Energy Service Area
Entrust Energy serves residential customers in the following US states:
| State | Energy Services |
| --- | --- |
| California | Natural Gas only |
| Illinois | Electricity & Natural Gas |
| Maryland | Electricity & Natural Gas |
| New Jersey | Electricity only |
| New York | Electricity & Natural Gas |
| Ohio | Electricity & Natural Gas |
| Pennsylvania | Electricity only |
| Texas | Electricity only |
Customer Reviews of Entrust Energy
Like many alternate suppliers, online reviews for Entrust Energy are mixed. Some consumers report great prices on fixed rate plans (where savings can be substantial) and positive experiences with customer service, whereas others report that some sales tactics leave consumers feeling tricked. Some customers report that they were rushed into enrolling with Entrust Energy based on misleading information. Variable rate plans undergo high price spikes as well.
Complaints With Entrust Energy
Since people tend to publish online reviews mostly when they are unsatisfied (and less likely to take the time to leave positive reviews), to some extent it is normal to find more negative reviews online than positive ones for most energy suppliers. With that said, we have noted the following patterns among the complaints about Entrust Energy:
Entrust Energy Offers
Fixed Rates
Entrust Energy offers a number of fixed rate plans. With fixed rates, customers have the same rate for their entire contract period. There are however, early termination fees. Customers have the option of choosing green energy fixed rate plans, where electricity comes from 100% renewable sources.
Early termination fee: $80
Contract length: 12, 18, or 24 months
Read more about common contract conditions.
Variable & Index Rates
Both variable and index rate plans feature prices which change from month to month. However, index rate plans are based on a formula which is disclosed when you sign your contract. Your rate for electricity will be calculated each month based on this formula, which provides a bit of security. For consumers on variable rate plans, the rate changes each month based on less transparent methods (i.e. at Entrust Energy's discretion).
Cancellation fee? None charged for variable rate plans, they are charged for index rate plans
No contract
Specific plan conditions may vary depending on your location.
Green Energy Plans
If you sign up for a green plan with Entrust Energy, you will not be receiving renewable energy directly to your home. Your energy will still come from traditional sources. However, Entrust Energy purchases Renewable Energy Certificates (RECs) on your behalf, which pay for the generation of green energy elsewhere in the United States. Entrust Energy matches your usage 100% in the purchase of RECs for green energy customers.
Find out more about the environmental impacts of green energy plans, and how renewable energy credits work.
About Entrust Energy
Entrust Energy is headquartered in Houston, Texas and was founded in 2010. The company has been named one of the fastest-growing retail electricity providers in the country (in 2014). In March, 2015, the company sold approximately 33,500 customer contracts in the Pacific Gas and Electric (PG&E) natural gas market in Northern California to Spark Energy.
Contact Entrust Energy
Find full contact information for Entrust Energy on our dedicated page
Entrust Energy Customer Care Phone Number
You can reach Entrust Energy toll-free at 1-800-871-8100. Entrust Energy's customer service hours are Monday through Friday from 8:30 a.m. to 7:00 p.m., and on Saturdays from 10:00 a.m. - 2:00 p.m. Customer service is closed on Sundays and holidays.
Mailing Address for Entrust Energy
Entrust Energy
P.O. Box 731396
Dallas, TX, 75373-1396
Interested in Entrust Energy?We're here to help. Call us at phone currently not available to find the lowest rates available in your area.