IGS Energy
One of the larger retail energy suppliers in the US, IGS Energy (also known as Interstate Gas Supply, Inc) serves residential and business electricity and natural gas customers across 11 states. They offer fixed and variable rates, as well as green energy options
---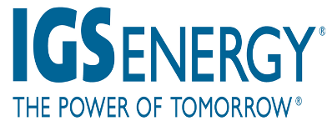 Service Area
Headquartered in Ohio, IGS Energy serves residential customers all over the United States.
IGS Energy supplies electricity to:
Illinois
Maryland
New York
Ohio
Pennsylvania
Texas
Natural gas service territory includes California, Illinois, Indiana, Kentucky, Maryland, Michigan, New York, Ohio, Pennsylvania, & Virginia.
Fixed Rate Plans
IGS Energy offers fixed rate plans for both natural gas and electricity. With fixed rate plans, the rate you pay for natural gas per therm or for electricity per kilowatt-hour does not change for your entire contract length.
Contract Lengths & Cancellation Fees
Contract lengths available for fixed rate plans include:
6 months
12 months
24 months
36 months
If you want to terminate your contract before it's over, you will have to pay an early cancellation fee depending on the amount of time that is left on your contract. If your remaining contract length is less than 12 months, your cancellation fee is $100. If you have more than 12 months remaining on your fixed rate contract, there is a $200 termination fee.
You must terminate your fixed rate plan 30 days before the end of your contract, or else you will be automatically renewed on a variable rate plan.
Green Energy Plans
There are also fixed rate green electricity plans available. IGS Energy does not deliver renewable energy directly to your home, but it matches your consumption 100% by purchasing Renewable Energy Certificates (RECs) which invest in renewable energy generation and projects.
Variable Rates
Guaranteed Savings Plans
While not fixed rate, on these plans IGS Energy promises that your rate will be a certain percentage lower than your local utility's each month.
Traditional Variable Rate Plans
With no contract or cancellation fee, variable rate plans are often popular. Rates for electricity and natural gas change each month, based on a supplier's own calculations. Rates often become much more expensive than that of your local utility.
While plan availability depends on where you live, variable rate plans are not very widely offered with IGS Energy.
Customer Reviews
Some consumers have reported savings and stability on fixed rate plans. Also, customer service receives high marks from some.
However, some customers are not appreciative of misleading sales tactics. There are claims that IGS Energy representatives have alleged affiliation with their local utility company, or have made unrealistic promises to vulnerable groups.
Read more reviews, including our take, on the IGS Energy customer reviews page.
Rewards
Customers of IGS Energy can sign up for gasoline rewards equivalent to 5 cents per gallon savings at Shell gas stations, for every $50 spent on your IGS Energy bill.
Contact Information
You can reach IGS Energy customer service at 1-888-995-0992. Read more contact information for the company, including where to send email correspondence.
History
Established in 1989, IGS Energy began serving retail customers in 1992. Short for Interstate Gas Supply Energy, IGS Energy now serves over 1 million customers and is one of the largest alternative energy suppliers in the United States.