Kona Energy
Texas-based Kona Energy sells "refreshingly simple electricity and natural gas" to residential and business customers across four states. However, the company currently offers electricity plans for residential customers.
---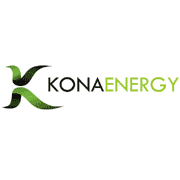 Service Territory
Kona Energy serves electricity customers in four US states, including:
Illinois
New York
Ohio
Texas
Natural gas service is not currently available.
Rates with Kona Energy
You can pick either variable or fixed rate plans with Kona Energy. We recommend fixed rate plans because they offer more security than variable rate plans.
Fixed Rates
On fixed rate plans, the rate you pay for electricity per kilowatt-hour remains the same for your entire contract period. Fixed Rate plans with Kona Energy have the following features:
$100 early cancellation fee
Right to rescind period - 7 days
30 days notice required to cancel
Plan becomes variable rate at end of contract
We recommend the following fixed rate contract lengths with Kona Energy:
| Contract Length | Our Recommendation |
| --- | --- |
| 18 months | Electricity plans |
| 24 months | Electricity plans |
Variable Rates
Some consumers are attracted by variable rate plans with Kona Energy, since there is no contract and no cancellation fee. Contracts renew automatically each month, with 30 days notice required to cancel. However, prices are subject to change monthly, and often do so much more than your local utility.
Customer Reviews
Savings can be great on fixed rate plans with Kona Energy, which customers really appreciate. The company also has a very experienced team.
Customers report that billing practices can be confusing, and customer service receives low marks.
Read more feedback for the company, including our take, on our Kona Energy reviews page.
Contact Information
You can reach Kona Energy customer service at 1-855-566-2669 from Monday through Friday, 8:00 AM to 6:00 PM (CST). Get more complete details on our Kona Energy contact page.
Company Information
Founded in 2012, Kona Energy is based in Austin, Texas. It has been known by a number of names in the past, including Zone Energy & Iron Energy.